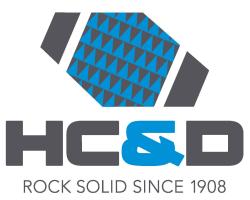 Maintenance Superintendent
2020-09-06 HC&D, LLC Kapaa Quarry
Description:
HC&D is the premier supplier of ready-mix concrete and quarry materials.  We are seeking a qualified individual to join our HC&D team:
MAINTENANCE SUPERINTENDENT
Seeking an individual with supervisory experience to direct and oversee the maintenance program for heavy equipment/plant/fleet, provide cost estimates for repair and new installation projects, and ability to lead effectively in a union setting.  This position requires knowledge of industry practices, well developed analytical and planning skills, and excellent record of completing projects efficiently.  Knowledge of mining operations and processing equipment preferred.  Must possess strong communication skills, be detail oriented, proficient in Microsoft Word and Excel.  Valid driver's license is required.
Deadline to apply: Friday, September 11, 2020
EEO / Affirmative Action Employer
Do not contact this company in solicitation of any product or service.